Commercial Property Earthquake Preparedness
2/28/2018 (Permalink)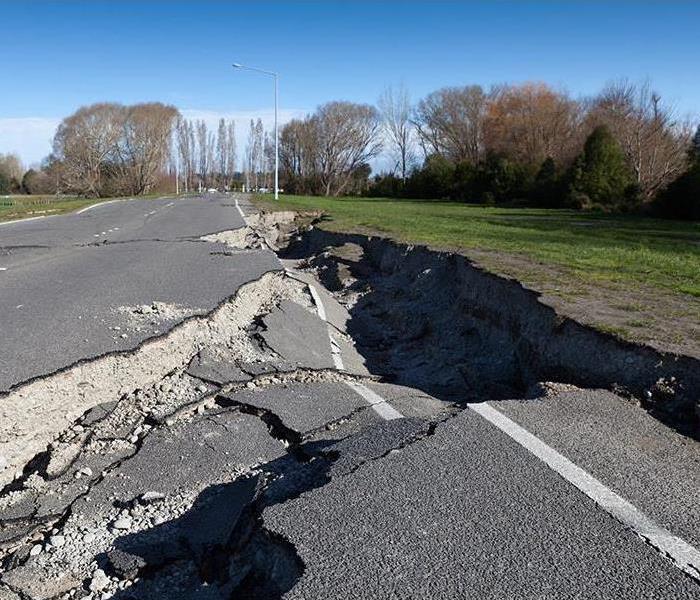 Hello SERVPRO of Crescenta Valley / East Glendale readers! We hope you all are enjoying this time of the year. We wanted to share with you all some helpful information on earthquake preparedness for commercial buildings, especially if you are a business owner or facility manager responsible for not just the safety of your family, but your co-workers as well.
In light of all the recent talks surrounding the topic of being overdue for the next "Big One," we reflect back on our last encounter with a serious earthquake, the 1994 Northridge quake. Our office stayed busy for weeks helping people restore their businesses to pre-quake conditions and the observation we made was the business owners or facility managers who had a plan in place were the ones most likely to re-open their doors. We know it's never fun to think about the worst-case scenario happening at your business, but in our line of work, it's never a matter of 'if'…but 'when.' You simply cannot afford to find yourself without a disaster plan!
BEFORE AN EARTHQUAKE – Develop an Action Plan
Identify potential hazards: Living and working in Los Angeles, we live our lives along the San Andreas Fault line (aka 'earthquake country'), so that's easy to identify; but are there other risks to your business? Identify what may interrupt your business operations temporarily or worse. The priorities you set here will help you in the other Steps. The Risk Level to your Critical Business Assets (CBAs) such as People, Data, Operations, Inventory, Equipment and Building all need to be identified and assessed to which ones pose the most significant threat to the sustainability of your business. If you secure it, it can be saved from earthquake damage or from hurting employees.
Create a disaster plan: After you have identified the potential hazards and impacts to your business, it's time to create your plan and train employees! Because disasters are highly unpredictable, it is impossible to anticipate every situation and impact. However, a Business Continuity Plan can greatly reduce the risks and losses your business might face by guiding your decisions yet allowing flexibility to adapt to the unexpected.
Prepare disaster supplies kits: After a disaster, businesses will need to be self-sufficient as first responders will be addressing high priorities such as hospitals and schools. Determine what you need in the first days following an earthquake including the basics like food, water and sanitation.
Identify your building's potential weaknesses and begin to fix them: Most businesses lease their space, so it's essential to work with your owner and property manager on addressing structural issues. If you own it, strengthen those weaknesses. Either way, measures taken now can help you keep your doors open. No access, no business.
DURING AN EARTHQUAKE – Execute the Plan
Protect yourself and employees during earthquake shaking: DROP, COVER, AND HOLD ON. The ground is shaking, what do you do? The critical life safety step is Drop, Cover, and Hold On. Stay clear of any objects that may fall and stay put until the shaking stops.
AFTER AN EARTHQUAKE – Assess the Damage
Check for injuries and damage: Life safety is the top priority after an earthquake or any disaster. Use trained personnel to find anyone injured. Next, survey your building for damage or other hazards. Decide if safe to stay.
Continue to follow your disaster plan (when safe): Once life safety has been addressed, it's time to begin recovery activities to resume business operations. Conduct an assessment for operational issues. Use your plan to guide your actions and restore priority operations first (here's where you may need to call us at SERVPRO of Crescenta Valley / East Glendale =D to help restore your facility to preloss conditions). Communicate often with employees and key contacts. Document your lessons learned to determine priorities before the next event.
We will never know when the next 'Big One' will happen, so we all need to be ready for whatever happens.
We couldn't have done this post without our friends at Earthquakecountry.org. Check out their website for more helpful tidbits of preparedness knowledge:
http://www.earthquakecountry.org/roots/7StepsBusiness2008.pdf